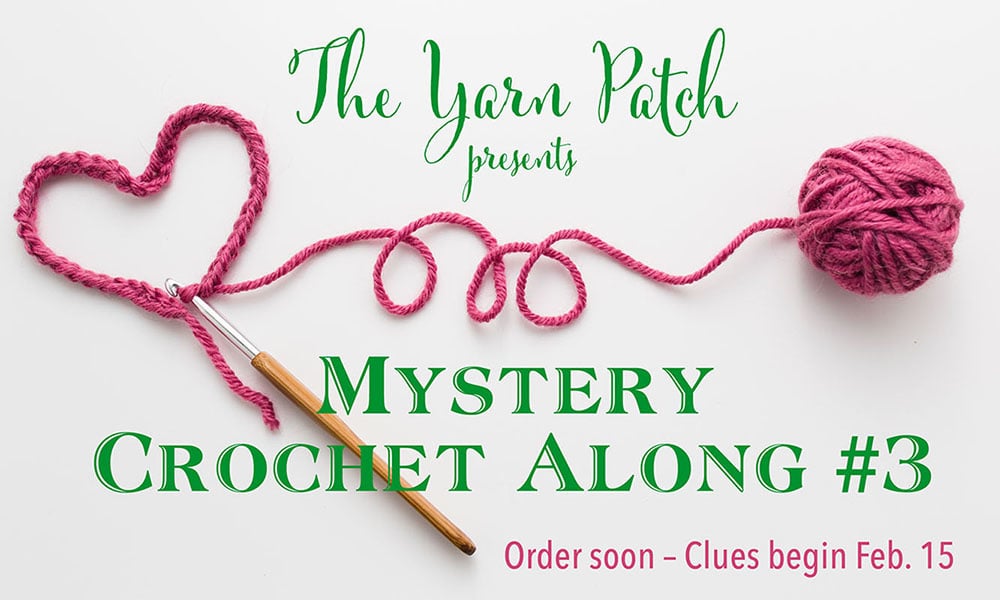 Join us for our 2023 Mystery Crochet Along!
Choose your colorway from the drop-down menu. Your kit includes 2 cakes of 100% Brazilian cotton yarn and the pattern delivered as 4 clues, each emailed one week apart. If you know how to chain, single crochet, and double crochet, you should be able to follow along with this pattern. That said, the email will include tips we think of while making the project and a link to video instructions. As you work on your creation, you can call, email or drop in if you have questions. 
The 2 cakes of sport-weight yarn have long color fades that give the finished product an almost painted look. No two cakes are the same, so each finished product is as individual as you! (Crochet along price includes all the yarn for the crochet along.)

You will need US Size 7 hook.

Other supplies you may want are
* Highlighter tape or Row Counter
* Locking stitch markers
* Tapestry or wool needle
* Blocking supplies, such as Eucalan, Knit Blockers and Blocking Mats.
Order by January 31 to be able to choose from all 14 colorways. Please note that this is currently pre-order. We will ship in early February when the yarn comes in. If you choose pick-up in store, we will give you a call when it comes in.
The first clue will be sent Wednesday, February 15. 
Due to the nature of this offer, NO RETURNS after January 31.
(Please note: colors in photographs are not exact and also vary from browser to browser.)
0
stars based on
0
reviews